About Us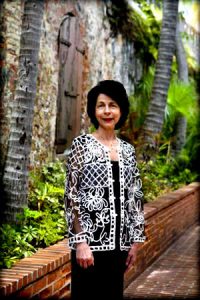 For more than 30 years, Mr.Tablecloth has maintained one exclusive location, busy downtown Main Street in Charlotte Amalie, St.Thomas. The store is easily identifiable by the long time owner Jeannie, as many of you may recognize her from your visits to the store. (She is pictured wearing one of our lovely ladies evening jackets.) Don't be fooled by the imitation stores that carry our name in the states, as well as on other islands.
When it comes to tablecloths, most of you already know about our awesome fabric called MICRO-FIBER. But for those of you who don't, it needs absolutely NO-IRONING and is completely STAIN RESISTANT. Some of them even have the appearance of a fine linen- without all the maintenance! You can choose from various styles.
We also specialize in the "unusual sizes," including square, round, and oval cloths. Not to mention cloths that are up to 252 inches long, as well as 90 inches wide. We also have great small gift items that can be found online. Since it is impossible to list everything online, if you have a question, please get in touch with us and we will be happy to help!
Phone orders accepted.
Our mission is simple: to provide the best products and service to our customers at the lowest prices possible. We take great pride in our company, our commitment to customer service and in the products we sell. Our online store is designed to provide you with a safe and secure environment to browse our product catalog.